Building Resilience to Climate Change
Through Off-Base Natural Infrastructure Solutions
Climate Change as a National Security Threat
Climate change is a national security threat that has tangible impacts on military readiness. In 2019, the Department of Defense (DoD) examined climate vulnerabilities at numerous military installations across the country.1 Of the 79 sites surveyed, over two-thirds are vulnerable to future recurrent flooding and more than one-half are vulnerable to future droughts and wildfires. Extreme weather events like these cause damage to defense facilities that undermine their operational capacity. For example, in 2018, Hurricane Michael devastated Tyndall Air Force Base—compromising training grounds, impairing valuable equipment, and creating hazardous conditions for personnel. This event prevented military units from conducting critical training activities and led to almost $5 billion in repairs, diverting resources away from other mission-critical efforts.2
Learn More About Climate Impacts
How REPI Helps DoD Build Resilience to Climate Change
As stated in the 2021 Interim National Security Guidance, reducing the impacts of climate change and extreme weather events on military readiness is a top priority for DoD.3 To help accomplish this, DoD uses the resources, expertise, and legal authorities of the Readiness and Environmental Protection Integration (REPI) program.
What Is the REPI Program?
DoD established the REPI program in 2005 to combat encroachment, which it defines as pressures that adversely affect the military's use of its training and testing lands. Traditionally, the program has focused on encroachment risks stemming from land use conversion around military bases—namely, incompatible development and habitat loss. Incompatible development around defense facilities causes light pollution, spectrum interference, airspace obstructions, and other challenges that may disrupt testing, training, and operations on base. Habitat loss, meanwhile, causes imperiled species to migrate onto DoD land, potentially triggering environmental restrictions on military activities.
Using authority from Congress, the REPI program funds cost-sharing partnerships between the Military Services and state agencies, local governments, or private organizations that identify and address encroachment risks. These partnerships acquire real property interests, typically in the form of conservation easements, from willing landowners and, when applicable, conduct natural resource restoration work on the land. As REPI projects mature, they form areas of protected or restored land in the vicinity of military installations that reduce the likelihood of land-use conflicts between the base and surrounding communities.
How Can the REPI Program Enhance Climate Resilience?
Climate change impacts, like incompatible development and habitat loss, have evolved into a significant encroachment threat for DoD.4 The military's access to its land, air, and sea-based training facilities is increasingly at risk due to climate-related issues. Failing to adapt to these conditions will limit DoD's ability to respond effectively to domestic and foreign crises. Recognizing this vulnerability, Congress, at DoD's request, expanded REPI's primary legal authority, 10 U.S.C. § 2684a, in 2019 to include climate change adaptation as a core focus of the REPI program.
The statutory amendment granted under 10 U.S.C. § 2684a gives the REPI program authority to fund projects that maintain or improve "military installation resilience "—increasing the ability of an installation to withstand extreme weather events or changes in environmental conditions. Because resilience projects take different forms in practice, the REPI program has specified that it will exclusively focus on enhancing or developing off-base natural infrastructure.
To celebrate Earth Day, Deputy Defense Secretary Kathleen Hicks, REPI program Director Kristin Thomasgard, Naval Air Station Patuxent River Commanding Officer CAPT John Brabazon, and a selection of conservation partners visited the Middle Chesapeake Sentinel Landscape. Deputy Defense Secretary Kathleen Hicks acknowledged that "REPI funds can also be leveraged by our partners to satisfy any matching or cost-sharing requirement of any conservation or resilience program of any Federal agency. This presents an incredible opportunity for DoD to collaborate with our inter-agency partners, and enhance state, local, and non-governmental initiatives that complement REPI's climate resilience efforts."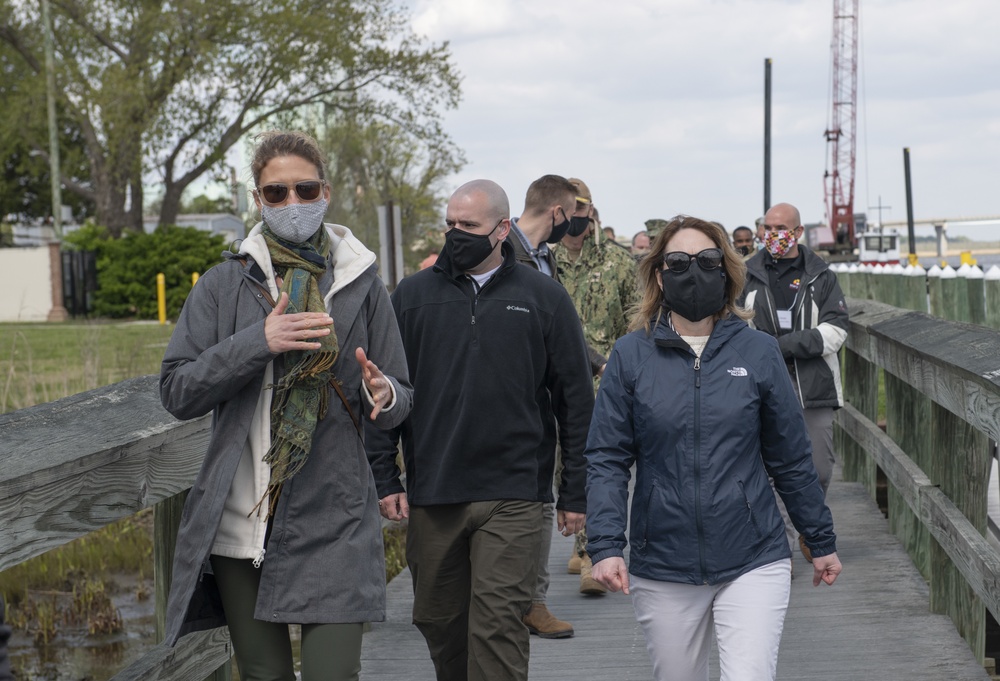 What Are Natural Infrastructure Solutions?
Natural infrastructure is an evolving term that lacks a universal definition and may also be referred to as green infrastructure or nature-based solutions. Within the context of addressing climate change effects, it refers to the use of naturally occurring features or landscapes that forestall the adverse effects of climate change — for example, tidal marshes that slow the rate of erosion or healthy forests that reduce the risk of wildfires. Restoring or enhancing these systems is among the most cost-effective, sustainable ways to make military installations more resilient to climate change.5 6 7 The reason for this is twofold. First, natural infrastructure solutions create an initial line-of-defense for DoD's built infrastructure by amplifying existing ecological benefits, meaning they often cost less than "grey" infrastructure alternatives. And second, natural infrastructure solutions fuel economic productivity and enhance well-being for local communities, many of which have strong ties to the military's presence.8
Learn More About Natural Infrastructure Solutions
Legal Authorities Used in REPI Resilience Projects
The REPI program's ability to finance climate adaptation projects lies in three different legal authorities from Congress. The first, and most commonly used, is 10 U.S.C. § 2684a. This statute allows DoD to fund natural infrastructure projects on parcels already protected by the REPI program. DoD typically allocates funding under this authority in a single lump sum. However, because natural infrastructure projects are long-term initiatives, partners may wait to use the money to cover future costs associated with their project. In such situations, partners can place DoD REPI funds in interest-bearing accounts but must spend any interest accrued on the same purpose for which the funding was originally allocated.
The second legal authority that can be used for a REPI resilience project is 16 U.S.C. § 670c-1, known as the "Sikes Act." Like 10 U.S.C. § 2684a, the Sikes Act allows DoD to provide funding to natural resource management, including natural infrastructure projects. A recipient of such funds will also have the ability place the money in interest-bearing accounts, when necessary. 10 U.S.C. § 2684a requires DoD to have permanently protected or acquired a restrictive easement on the parcel where the natural infrastructure project will occur—the Sikes Act, on the other hand, does not. Instead, Sikes Act projects can happen on state, local government, tribal, and private lands that are not protected by DoD.
The third legal authority that REPI resilience projects may use is 10 U.S.C. § 2679, which authorizes Intergovernmental Support Agreements (IGSAs). IGSAs allow DoD to participate in and fund public services typically administered by state or local governments that build resilience to climate change in areas with military installations.
Legal Authorities Used by REPI Resilience Projects
| | | | |
| --- | --- | --- | --- |
| Agreement Type | Cost-sharing agreements | Cooperative agreements or interagency agreements | Intergovernmental Support Agreements (IGSAs) |
| Eligible Entities | State or local governments and non-governmental organizations | State or local governments, Indian tribes, non-governmental organizations, and other federal agencies | State or local governments |
| Resilience Opportunities | DoD can build installation resilience by funding activities that enhance off-base natural infrastructure. | DoD can build installation resilience by funding activities that restore high value habitat or natural resources. | DoD can fund public services typically administered by state or local governments that build resilience to climate change in areas with installations. |
| Eligible Land | Projects can take place on properties already protected by the REPI program. | Projects can take place on state land, local government land, tribal land, and private land. | N/A |
How to Develop a REPI Resilience Project
The graphic below outlines the steps that installations and their partners should take to pursue funding from the REPI program for a climate resilience project. It is important to note that these steps serve as guidance and may not be the same for every installation or partner. Adapting these steps to fit your specific needs is not only recommended but encouraged.
Installation Path
Step 1
Assess Climate Change Concerns and Mission Impacts
Step 2
Identify a Partner
Partner Path
Step 1
Assess Overlapping Priorities and Mission Concerns
Step 2
Contact Local Installation
REPI Resilience Project Examples
Since Congress expanded 10 U.S.C. § 2684a in Fiscal Year 2019, the REPI program has funded several successful resilience projects across the country. You can find details on several such initiatives below. For updates on new and existing resilience efforts, please view the REPI project fact sheets on the REPI website.