Through the Air Installations Compatible Use Zone (AICUZ) and Range Air Installations Compatible Use Zone (RAICUZ) program, air installations work with local governments and the community to educate stakeholders on the air installation's mission and develop compatible land use recommendations that can inform zoning and local ordinances with the aim of reducing potential accidents and noise impacts to the community. This program designates Accident Potential Zones, Clear Zones, and noise zones at the end of military runways. These are areas of land that need to be compatible with air operations while preserving the health and safety of on-base personnel and the community. The Navy, Marine Corps, and Air Force all use AICUZ criteria to strategically identify parcels in the vicinity of air stations and bases to be protected.
Instead of using REPI program or O&M funds for DoD contributions to a REPI project transaction, the Military Services can use a property exchange under the authority of 10 U.S.C. § 2869. The 2869 authority allows DoD to convey excess or closed Base Realignment and Closure (BRAC) property in exchange for an agreement to acquire real property under the 2684a authority. Excess land can be directly exchanged for land of equal value that will be protected through a REPI partnership, or the excess land can be transferred to a partner who agrees to make a contribution of equivalent value to a REPI project transaction. A land exchange provides DoD the ability to efficiently use limited resources to benefit its mission. Meanwhile, the excess DoD property is returned to the tax rolls or otherwise used for community benefit.
The Office of Economic Adjustment (OEA) Compatible Use and Joint Land Use Studies (JLUS) Program is the only program of direct Federal assistance to help states and communities work with the Military Services to promote compatible civilian development in support of the long-term sustainability and operability of military installations, including ranges, special use airspace, military operations areas, and military training routes. OEA provides technical and financial assistance to state and local governments to undertake a JLUS and carry out the recommended strategies to promote compatible civilian development. Through a community-driven JLUS planning process, adjacent communities and often the state, in partnership with the installation, identify and evaluate a wide range of existing and potential future compatibility challenges that may impair the military mission. The affected communities then develop a strategic action plan to identify specific actions, responsible parties, a proposed timeline, and possible funding sources to address the compatibility challenges. Through the JLUS, a Military Service and/or the affected communities may identify an issue for which a REPI project can provide resolution. Thus, JLUS serves as a powerful tool for the REPI program in bringing communities and the military together to address compatible land use issues and needs.
Military Aviation and Installation Assurance Clearinghouse was established in 2010 to provide a timely, transparent, and repeatable process that can evaluate potential impacts from energy development as well as explore mitigation options that preserve the DoD mission. With the rapid expansion of alternative energy, DoD is increasingly called on to review the compatibility of proposed wind, solar, transmission, and other projects with military activities.
DoD has a structured process for developers to request that DoD conduct mission compatibility evaluations, documented in 32 C.F.R. Part 211. The Clearinghouse's formal review process applies to projects filed with the Secretary of Transportation, under 49 U.S.C. § 44718 (Federal Aviation Administration obstruction evaluation process), as well as other projects proposed for construction within military training routes or special use airspace, whether on private, state, or Federal property, such as Bureau of Land Management lands. The Clearinghouse also provides informal reviews, when requested. This means that a developer, landowner, state, tribal, or other local official may request a preliminary determination in advance of the filing of an application with the Secretary of Transportation. More information can be found on the Clearinghouse website.
Installations work with the U.S. Fish and Wildlife Service and state fish and wildlife agencies to ensure natural resources are managed consistent with proper stewardship and sound science, while complying with legal requirements. To alleviate restrictions on threatened and endangered species habitat, our installations are working beyond their boundaries to attain credits for promoting the conservation and recovery of a listed or potentially listed or its habitat. Installations can consult with the U.S. Fish and Wildlife Service according to Section 7 of the Endangered Species Act to accrue credits and alleviate restrictions by showing a measurable contribution to a species' recovery through equivalent protection on non-DoD lands.
Additionally, DoD has specific regulatory authority to purchase credits directly from conservation banks, mitigation banks, and in-lieu fee programs (10 U.S.C. § 2694c and 10 U.S.C. § 2694d). Mitigation banks and in-lieu fee programs provide compensatory mitigation credits for impacts to wetlands and other aquatic resources. Banks issue credits prior to the impact, while in-lieu fee mitigation is implemented after the impact from the DoD activity. Under recovery credit systems, DoD serves as the bank. Recognition of DoD's authority to use recovery credit systems is provided in U.S. Fish and Wildlife Service guidance (73 Fed. Reg. 148, p. 44761-44772).

Click to discover more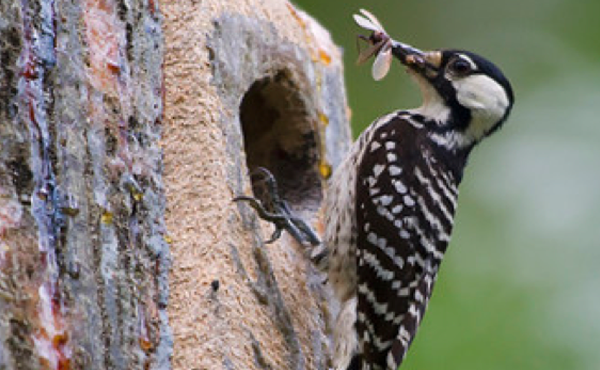 Close
The red-cockaded woodpecker (RCW) is an endangered bird that inhabits the open pine forests (mainly longleaf pine) of the Southeast from New Jersey, Maryland and Virginia to Florida, West to Texas and North to portions of Oklahoma, Missouri, Tennessee and Kentucky. The RCW is a non-migratory species that makes its home (cavities) in mature pine forests. These birds are considered 'keystone' species because the use of their cavities by other species contributes to the richness of the pine forest.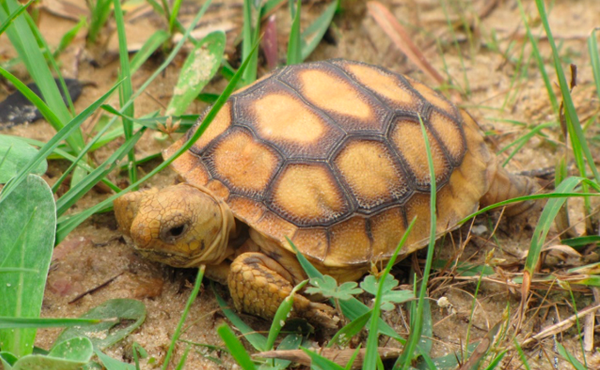 Close
Gopher tortoises are currently endangered in the Southeast Region of the U.S. and threatened in other parts across the country. Each tortoise will dig and use many burrows throughout the active season; these burrows also provide refuge for about 360 other species throughout its range. Gopher tortoises thrive in relatively deep, sandy, soils and in longleaf pine forests. Threats include habitat fragmentation and degradation, predation, inadequacy of regulatory mechanisms, road kill, and incompatible use of herbicides in forest management.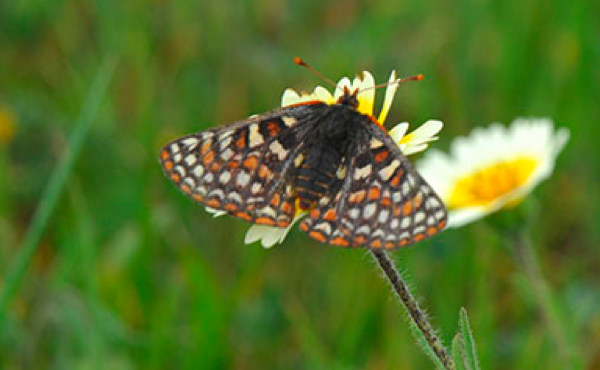 Close
The checkerspot butterfly is currently a threatened species in the Northwest region of the U.S. that likely to become endangered in the foreseeable future. Checkerspot butterflies exist on shallow, serpentine-derived soil. Threats include habitat loss and fragmentation, invasion of exotic/invasive plants, nitrogen deposition, pesticide application (including drift), illegal collecting, fire, overgrazing, and gopher control.